Before entering open enrollment, you'll need to make sure all your groups have been added to the system. If the group already exists in FormFire but is not part of your book of business, all you need to do is perform a Broker Transfer. Otherwise, create the group using the following instructions.
Log into your FormFire account and choose Add Client from your Client Dashboard. It'll open a screen with multiple sections of information that require attention.
The first section is Employer Information. Fill in all required fields (look for the red asterisk *), paying special attention to providing a correct Tax ID.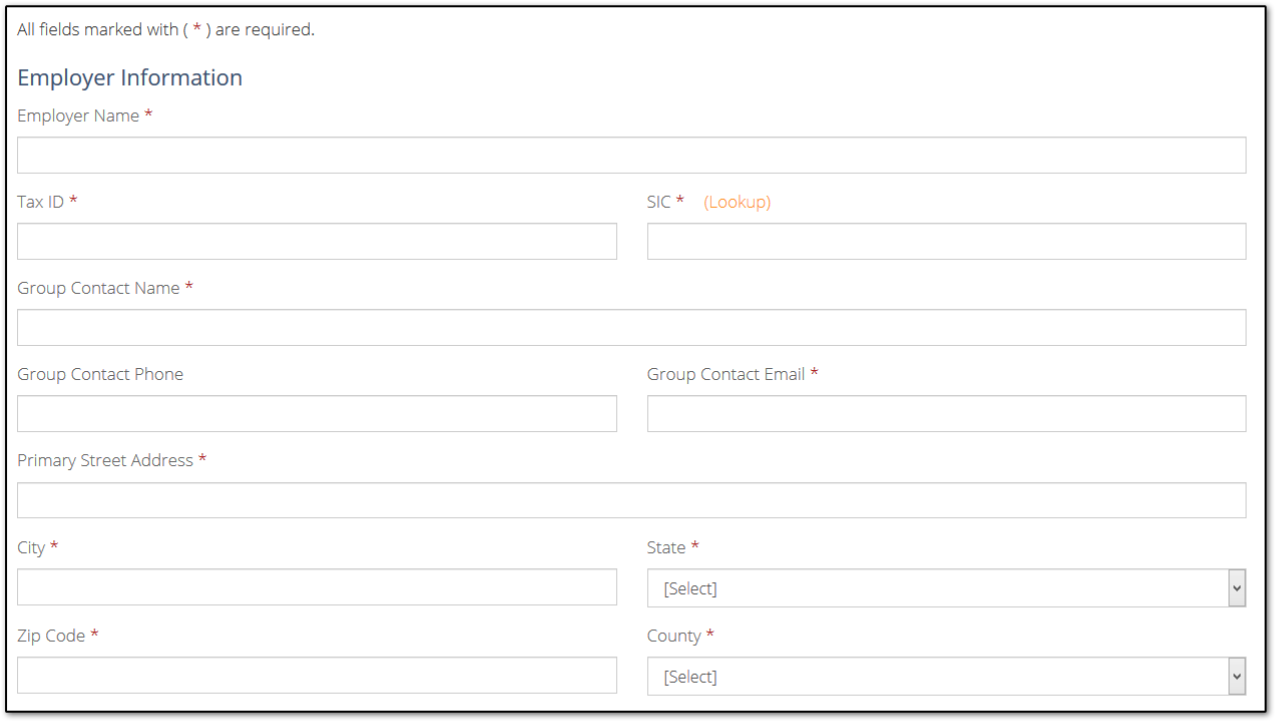 You'll then enter in the Enrollment Information for the Client. Fill in all of these required fields

Enrollment Type: This should be New Enrollment for the first set up.

Enrollment Start & End Dates: This is the window of time you want the Employees to fill out the Employee interview. It's automatically set to a 90 day period but you can adjust that as needed

Effective Date: The date coverage is set to begin. This should be AFTER the Enrollment End Date.

Number of Employees: Let us know how many Employees there are in the Client. For the program, select Small (2-50).

Renewal Date: The date of coverage is set to renew.
There are 3 items  that you are able to enter information for in this section:

Medical Health Questionnaire Type

Pay Period

Eligible for State or Federal Continuation

Next, choose the lines of coverage your Client will be offered by filling in the box under Coverage Selection. Coverage lines with blank boxes will not be options for the Employees to select in their accounts.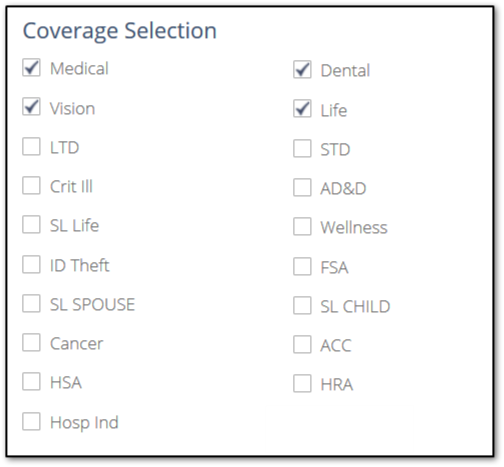 The next area of importance is Custom Enrollment Options.
Require Employee Medical History: Defaulted on, this activates the Medical Health Questionnaire.
Require Employee Life with Beneficiaries: This is for 100% Employer Paid Life Coverage and would automatically enroll the Employee in the coverage.
Show Employer Contribution: By default, only the Employee plan cost is shown in the Employee Interview. This option will also display the Employer Contribution.
Require Employee Plan Selection: The On/Off switch for turning on plan selection in the Employee Interview - not selectable until you have a plan assigned to the group.
Enable Employer Group Medical Questionnaire: Turns on the Employer Interview on the HR Dashboard.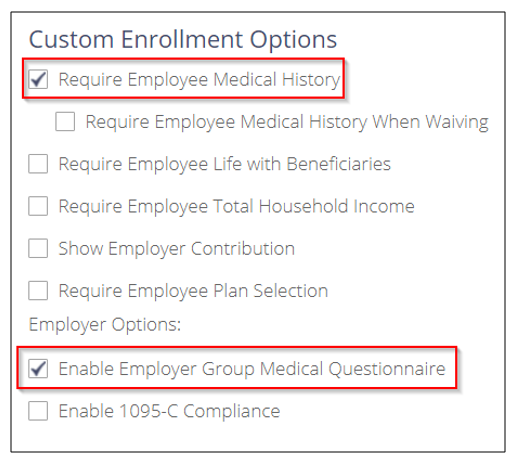 The last required piece is the Broker Set Up. This area can be used to give permission to colleagues to manage this group.
The General Agent Setup area is used to store associated information, but is not required during Group creation.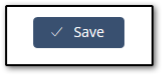 Make sure that you click the Blue Save button at the top of your screen for your Client to be saved in FormFire.
Once you have added your Client, you will need to click the Orange Context Menu on your Client Dashboard and select Client Details.
You can access and edit any information on this page aside from the Tax ID, at any needed time.