A requirement for the Anthem for SOCA Benefit Plan is to attach a completed Employer Questionnaire with the Prescreen submission. The Employer Questionnaire is only available on the Broker Portal and should be completed by the Broker.
To access the Employer Questionnaire, open the orange context menu and select Anthem SOCA Details.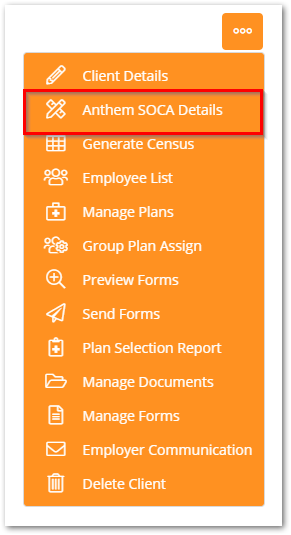 The Employer Questionnaire will be split into 3 sections:
NOTE: To submit Employee data for purposes of completing a Prescreen with Anthem SOCA, you must complete ALL information on this screen before sending forms to Anthem. If the HR Manager has filled out anything for the Employer Questionnaire on the HR Dashboard, you'll see it reflected here on the Anthem SOCA Details page.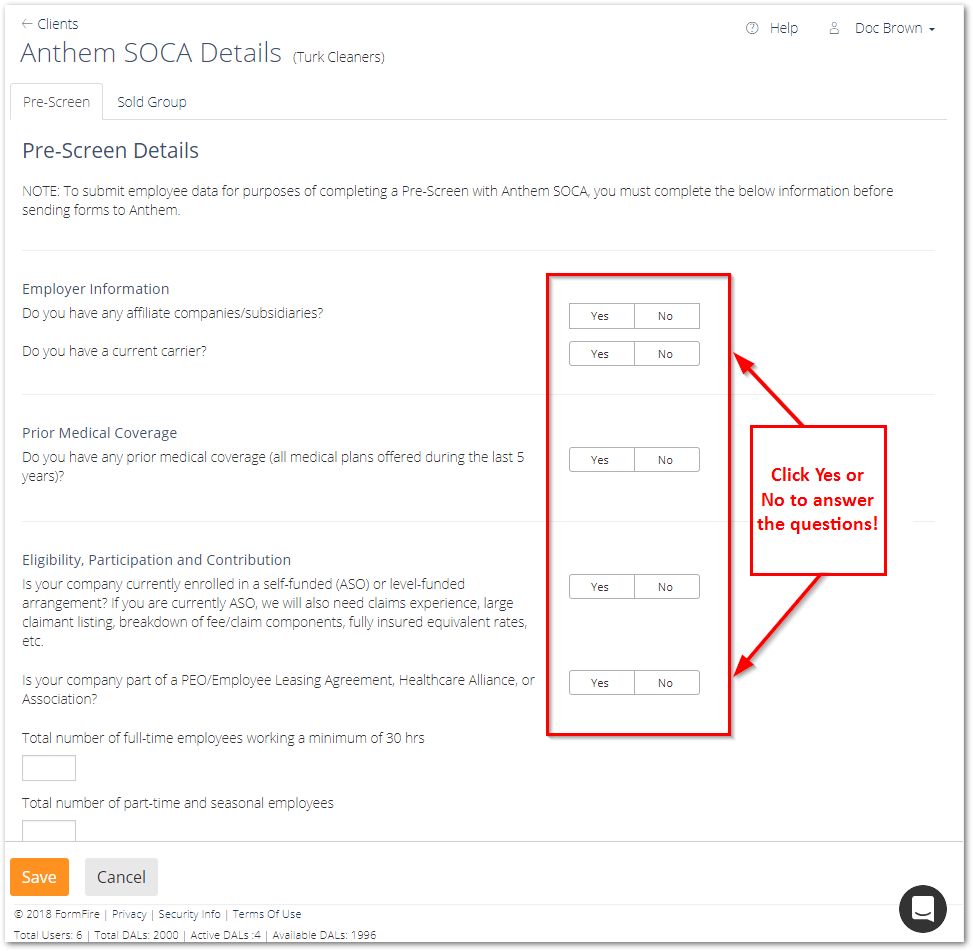 Employer Information
For your Client, you're asked to answer Yes or No for 2 questions:
Do you have any affiliate companies/subsidiaries?
Do you have a current carrier?
Answering Yes will ask you to add additional information:

Prior Medical Coverage
Here, you'll answer Yes or No for 1 question:
Do you have any prior medical coverage (all medical plans offered during the last 5 years)?
Answering Yes will ask you to add 3 pieces of information:
Carrier
Type of Coverage (PPO, HMO, Indemity, deductibles/copays)
Period in Effect

Eligibility, Participation and Contribution
In this section, you'll answer the following questions:
Is your company currently enrolled in a self-funded (ASO) or level-funded arrangement? If you are currently ASO, we will also need claims experience, large claimant listing, breakdown of fee/claim components, fully insured equivalent rates, etc.
Is your company part of a PEO/Employee Leasing Agreement, Healthcare Alliance, or Association?
Total number of full-time Employees working a minimum of 30 hrs.

Enter in the total number

Total number of part-time and seasonal Employees.

Enter in the total number

Did you employ an average of less than 50 total Employees during the preceding calendar year?
Do you (the Employer) fund more than 50% of the member deductible, out-of-pocket costs (e.g., copays or coinsurance), or any bank account to fund those costs for the members covered under your plan?

Eligible enrollees as of this plan's effective date will have coverage.

Select On group's effective date or Same waiting period that applies to new persons or on group effective date, whichever is later

New eligible enrollees will become effective on.

Select the correct option from the drop-down menu

Are you a sole proprietor?
NOTE: Sole proprietors are eligible to participate in the SOCA Benefit Plan. However, due to regulator requirements, total sole proprietor membership cannot exceed 10% of the total membership of the plan. A sole proprietor must meet certain underwriting requirements and must demonstrate that he/she is working over 30 hours per week. Sole proprietors must submit a cover page for Form 1040 with a Schedule C or a Schedule F and a Schedule SE as proof of sole proprietorship status. "Groups of one" are not eligible to participate in the SOCA Benefit Plan. Final participation and premium equivalent rates must be approved by Underwriting and the SOCA Benefit Plan.
Answering Yes requires you to add additional information:
NOTE: If you answer Yes to Question 1, you will be required to add additional documentation in your prescreen submission to the Anthem for SOCA Benefit Plan.
Once all items have been completed, click Save at the bottom of your screen. This ensures that the Employer Questionnaire has been completed and ready for you to send directly to Anthem!
Click
here
to see how you can contact our FormFire Customer Support team for technical assistance. If you need to reach any other department, please visit our
Contact FormFire
page for additional options.