The Welcome Letter invites employees to FormFire and gives them the information they need to get started. The Broker sends the letter to the HR Manager or group contact who is responsible for distribution to the employees.
From the Client Dashboard, locate the client and select Send Welcome Letter from the client's orange context menu (shown below).
The pop up defaults to the standard Welcome Letter, but you can change to the Welcome Back Letter by selecting it from the drop-down menu. If you already have an HR Manager assigned, their name will show as the recipient.
If not, or you'd like to change who you're sending to, you can freely type another email address by selecting Not in the List Above.
NOTE:
FormFire offers 4 types of
Welcome Letters
. The 
Welcome Letter
 is reserved for new clients in FormFire or for new hires. The 
Welcome Back Letter
 is reserved for returning clients and users. Both letters are available in English and in Spanish for any Spanish speaking employees.
The recipient will receive an email with a few things attached:
The Welcome Letter
FormFire's Social Security Number Policy
Security Information
 The recipient will need to provide these items to all employees. 
Example of the FormFire Welcome Letter for Employees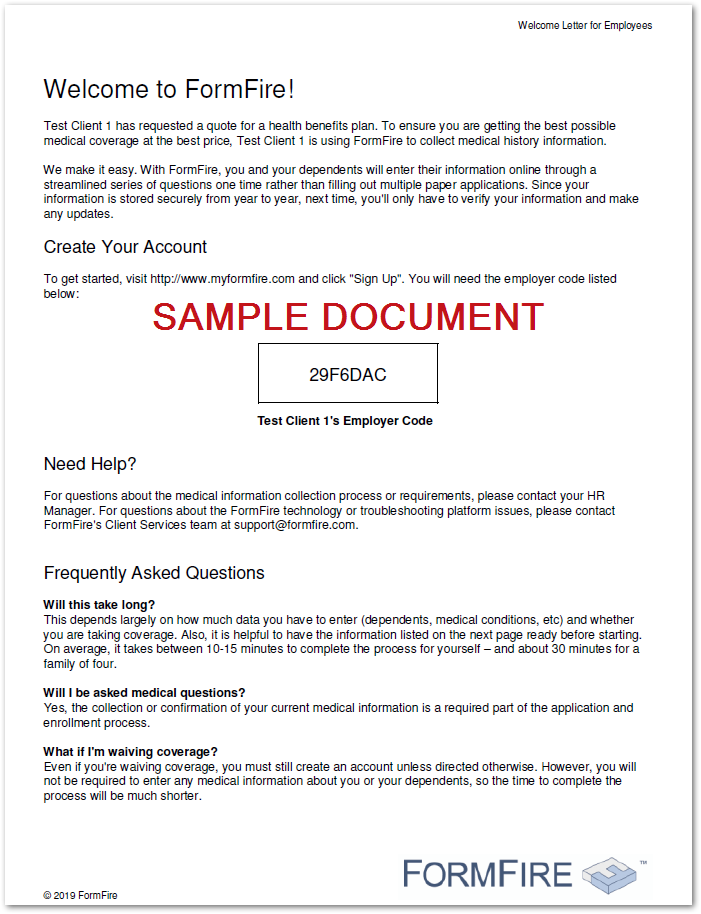 The employee will use the provided Employer Code to create their account at our Sign Up page.
We've included a few FAQs to address common questions employees may have when using FormFire for the first time. More information can be found in our Support Center.
If you're a Broker who would like to download a copy of the Welcome Letter to review or distribute to the employees, just enter your name and email as the recipient.