Did you know you can quote Beam Dental in FormFire? Well you can! View the steps below to see how to use the Beam Dental Custom Quote in FormFire! If you'd like to use Beam Dental's Instant Quote instead, click here.
Select any of the links below to view a specific topic:
Prescreen submission basic requirements
Prescreen and quoting requirements will vary per Carrier. It's helpful to ensure the basic requirements below are met to enable data sending through FormFire.
The Client must display a Complete Employee Status on your Client Dashboard
Activate DALs for your Client in order to submit to the Carrier
Once those basic requirements are met, you'll then be able to submit the completed applications to any Carrier you'll be quoting this Client. Click here to see how you can send a submission to any Carrier. But to create a Custom Quote for Beam, continue to the next section of this article.
Send the submission to Beam Dental
Find the completed Client on your Client Dashboard. Then, open the orange context menu and select Send Forms.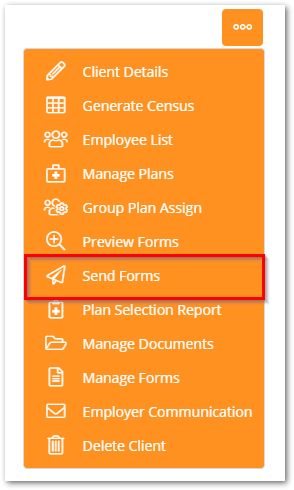 Here, select the following:
Submission Type: Prescreen
Carrier: Beam Dental
Form: Beam Dental Quote Request form
Leave Dental as the only boxed checked under Coverage lines to include.
Lastly, select Send Forms. Review the items on the confirmation pop-up and select Send Forms.
Click
here
to see how you can contact our FormFire Customer Advocacy team for technical assistance. If you need to reach any other department, please visit our
Contact FormFire
page for additional options.