FormFire allow you to access, review and download forms and applications for an individual Employee (items will be offered in PDF format).
On the Client Dashboard, select Employee List from the orange context menu next to your desired Client.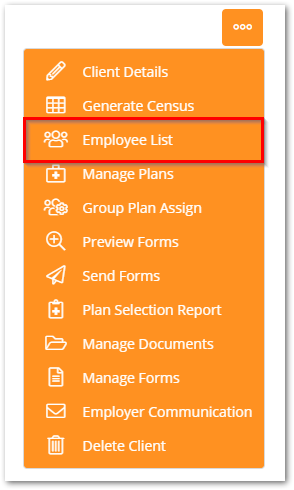 From your Employee List page, click on the orange context menu for the Employee in question and select Preview Forms.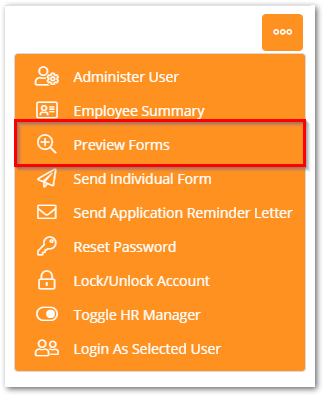 On the Preview Forms, FormFire notes the name of the Employee you're previewing at the top of the screen. Just as with previewing forms for a Client, you can choose the type of form you'd like to preview, search with Carrier forms or even by the name of the form.

NOTE: Forms that are displayed with a prepended "~" do not have medical conditions mapped and alphabetically appear first.

Once you found the form that you'd like to view, click on the orange context menu and select Preview Forms. The forms will either appear in another tab or even open in a new window, depending on your browser. (When downloading a file, if you click Save instead of Open, you'll need to retrieve the file from your Downloads folder).
Click
here
to see how you can contact our FormFire Customer Support team for technical assistance. If you need to reach any other department, please visit our
Contact FormFire
page for additional options.