Effective Monday, March 30, 2020, our Client Services hours are temporarily changing. Our agents will be available from 9 AM to 5:30 PM EST, Monday - Friday, until further notice.
You've created an account - what's next? When you log into formfire.com/interview you'll be able to fill out your insurance information online. Let's take look in more detail.
NOTE: Video does not contain audio!
When you log into your account, you'll see the Employee Landing Page. We've highlighted key pieces of information for you, including how long FormFire is open for you and who to contact at your company for any benefits related questions. Click the orange Start button to enter your account.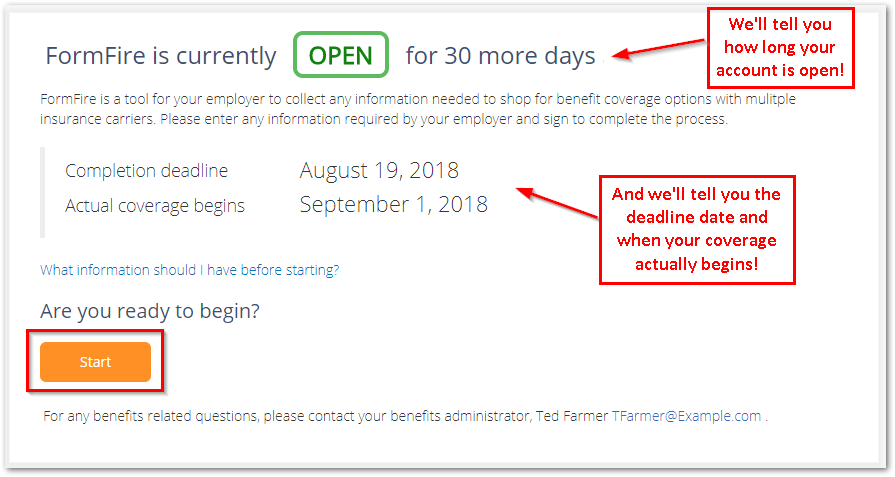 At the top of your account, you'll see the following tabs:
FormFire Profile
Coverage
Health Questions
Review & Sign

By clicking on the tabs, you'll be taken to different parts of the FormFire Employee Interview to fill out information. Orange notes which page you're on, currently.
The items you'll need to complete for each section are visible on the right-hand side of the screen.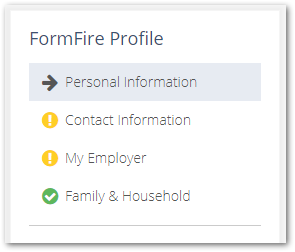 Items with a yellow exclamation point indicates that this item need attention
Items with a green checkmarkindicates that section is complete
The item with a black arrow indicates what section you're on, currently.
FormFire Profile
This section is all about you! All fields are required unless indicated. To navigate through your FormFire Profile, you can either click Next or click the pages on the right-hand side menu. You'll be asked to fill out 4 pages:
Personal Information
Contact Information
My Employer
Family & Household
Let's take a look at two of these pages!
Personal Information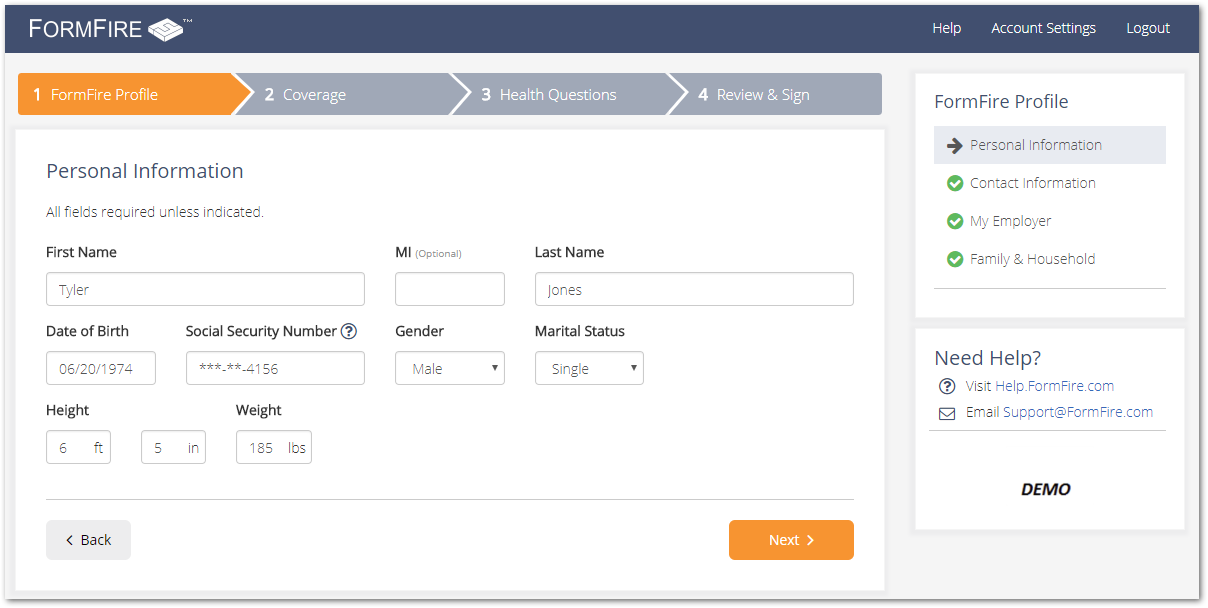 Family & Household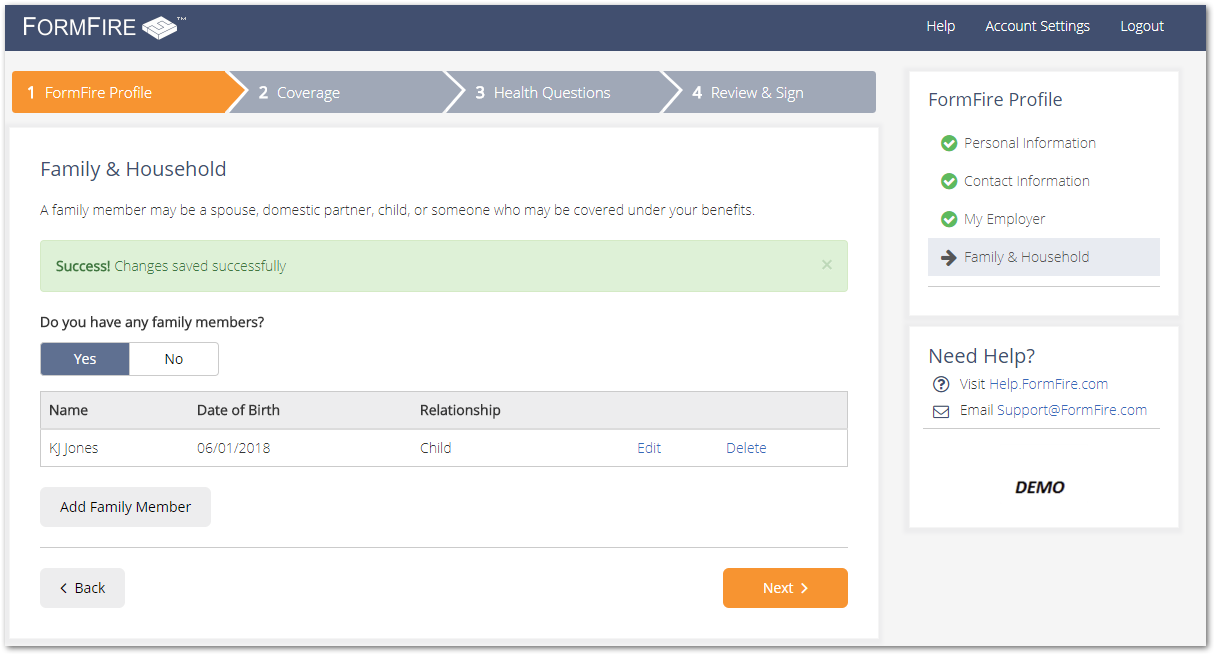 NOTE: If your family member is waiving (not taking) all coverages that your Employer is offering you, you don't need to add that person's information into FormFire on the Family & Household section. You only need to add family members who'll be taking some or all coverages with you.
To see who is considered a family member, click here.
If your dependent does not have a Social Security Number, click here.
Coverage
Either accept or waive the coverage offered by your Employer by clicking Cover or Waive.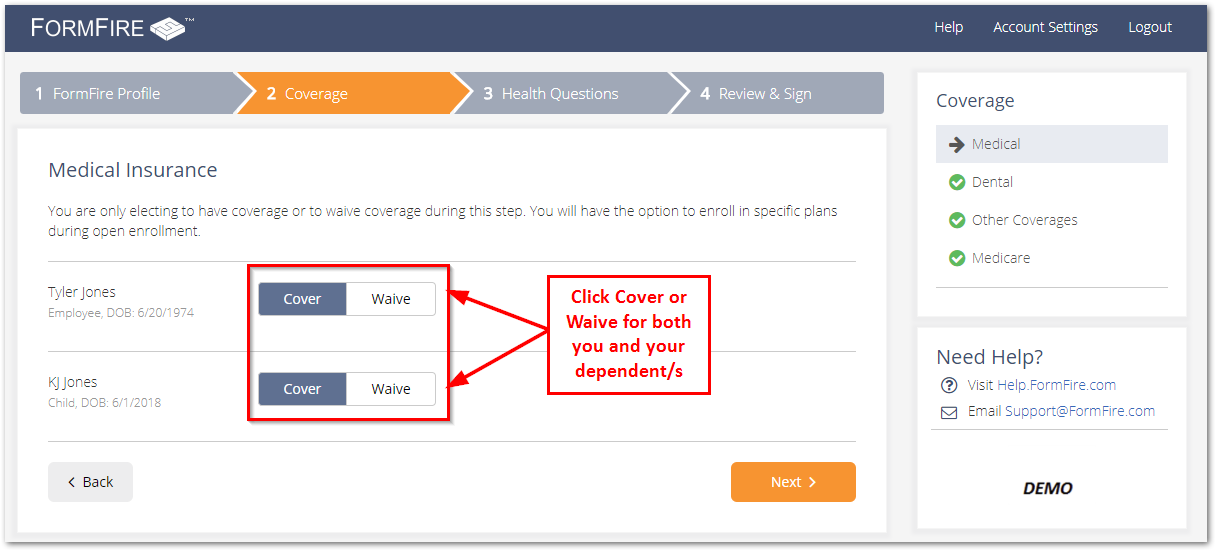 You'll be able to see all available coverage options on the right side menu. Once you've made your selection, click Next.
NOTE: To see what is required when waiving coverage, click here.
Health Questions
Enter medical history for yourself and all family members listed in your account.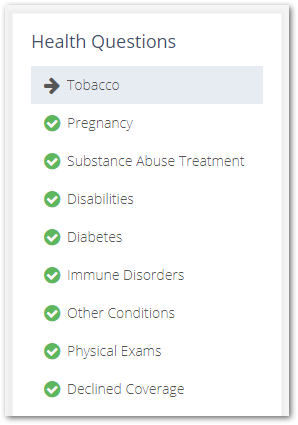 Select Yes or No for all items asked in the Health Questions section. When you select Yes, you'll be prompted to add the record for yourself or family members by clicking the gray Add Record button.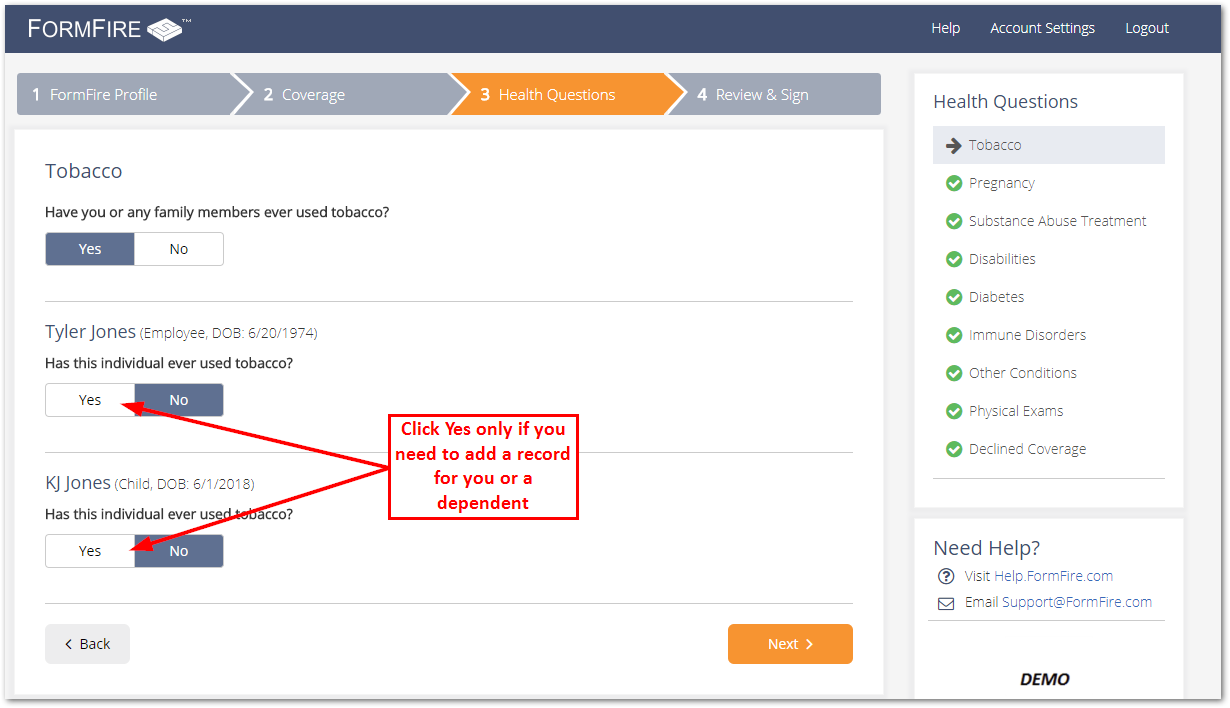 NOTE: To see how to enter in a condition, click here.
Review & Sign
You're almost done! Review your information to ensure everything is correct. If there are any errors, you'll be asked to correct them before signing.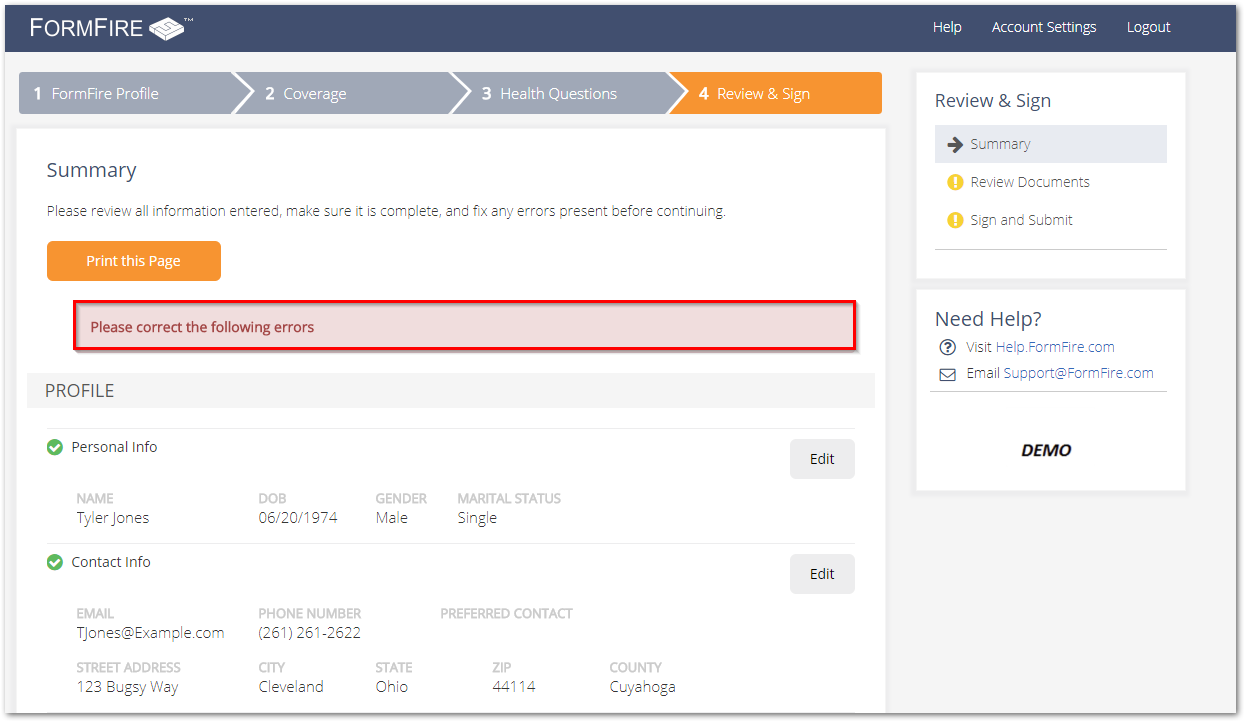 You'll see a summary of the information your entered. Edit anything on this page by selecting the gray Edit button on the right-hand side of the screen.

Before you can sign, you'll need to confirm you've entered all conditions for yourself and your family members.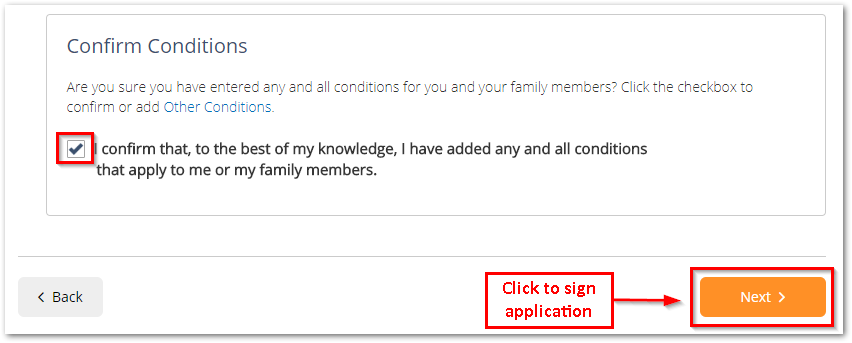 Finally, you can either sign by using your mouse:

Or typing your name:

Whichever option you choose, you'll need to click Sign and then Submit!

A Confirmation window will display showing your application has been successfully submitted. A short, optional survey appears for you to share your thoughts on the experience. Click Done to go back to your Home Page.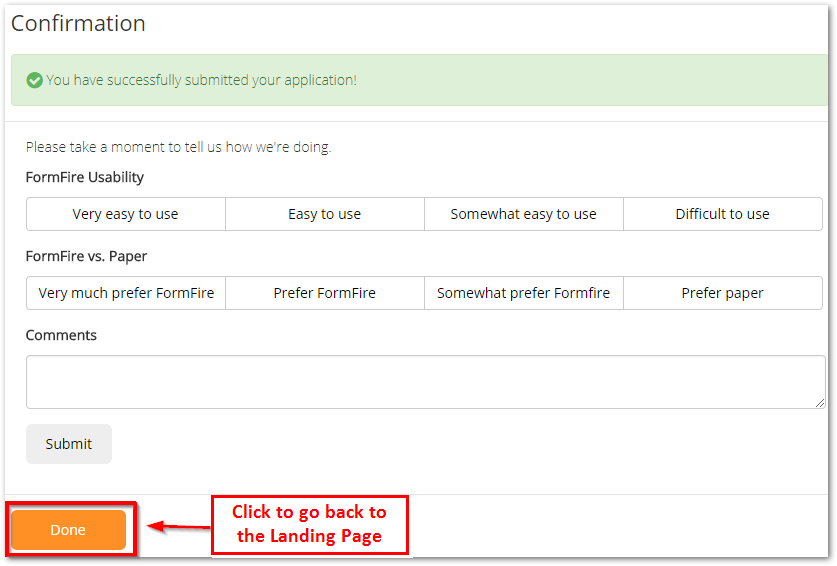 Your Employee Landing Page will now show that your information is complete.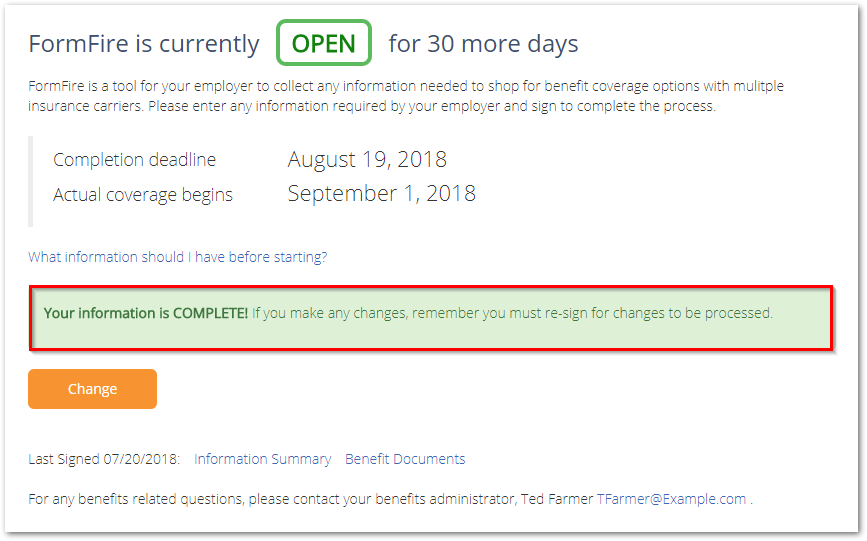 If you have any questions regarding your benefits, please contact your HR Manager or your company's Insurance Broker.