Brokers can save contact information for their Carrier representatives in FormFire to save time when sending forms for either a Prescreen or Sold Group submission.
Select Underwriters from the blue Admin menu, on the left-hand side of the screen.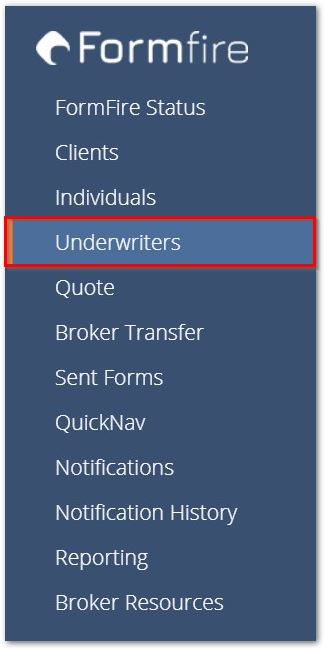 On the Underwriters page, you'll see a list of all Carrier contact information already save to your account.

NOTE: The Underwriters page is account specific, meaning one Broker (Admin) may have different contact information listed than another Broker (Admin) at their Agency.
To add a new contact, click the blue +Add Underwriter button.

A slide-out menu will appear from the right-hand side of your screen. You'll be required to enter in the following items:
Last Name
First Name
Carrier
Email
FormFire recommends creating a Default Password. Passwords should be at least 8 characters long and provided to your contact OUTSIDE of FormFire. Click Save to add your new contact.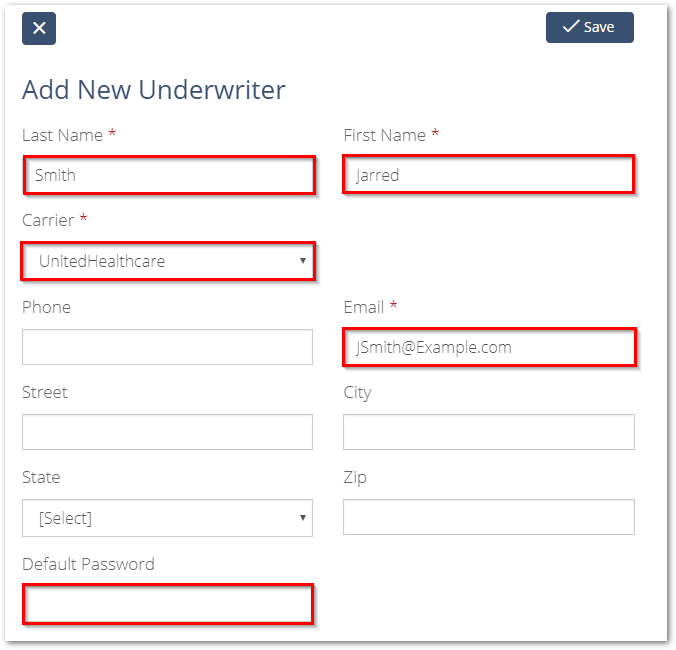 NOTE: When sending forms and other documents through the Send Forms page, all items are sent within a secure link to your contact. Your contact will need the password to open all items.
Now, you'll see the new contact listed on the screen.

On the Send Forms page, you'll see your contact's name listed in the Recipient section when you send to the Carrier the contact is associated with in FormFire.