Individuals are accounts that are in your Agency's book of business, however, not associated with a Client. You can manage your list by selecting the Individuals link on FormFire Admin menu.

You can either delete an individual user or multiple inactive users with a few easy steps.
Deleting an Individual User
Find the individual in the list
Open the orange menu next to that individual's name
Select Delete Individual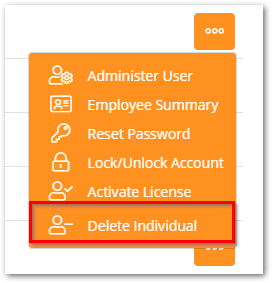 Deleting multiple Inactive Individuals
Select the Delete Inactive Individuals buttons on the top right-hand side of the screen.

On the Delete Inactive Individuals pop-up menu, select from the following options:
3 months
6 months
12 months
18 months
24 months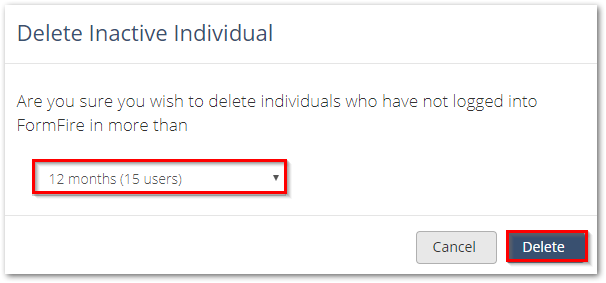 FormFire informs you in parenthesis how many Employees have been inactive for that particular time frame. Once you've selected the time frame, select Delete.
NOTE: Deleting Individuals from the Individuals page DOES NOT delete the account permanently from FormFire. An Employee that would like to have his or her account deleted permanently must call (866) 338-7075 to speak directly with our Customer Support team.
Click
here
to see how you can contact our FormFire Customer Support team for technical assistance. If you need to reach any other department, please visit our
Contact FormFire
page for additional options.