Brokers have the ability to turn on or off specific notifications they receive from FormFire regarding their Clients. Specifically, when an Employee makes a change to their account.
In order to turn this notification on (or off), Brokers will follow the steps below.

Find your name on the top right-hand side of your account in FormFire Admin. Click and select Account Setup.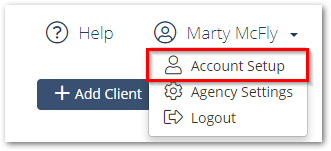 On the Notification Settings page, you can turn on any notification that you'd like to receive by adding a checkmark to the box right by the notification name. To turn off, uncheck the box right by the notification name.
For a Qualifying Life Event, you'll find this notification under the Employee notification section titled Coverage Change Notification.