FormFire offers brokers the ability to populate a carrier specific census with the click of the button. You can also export census data from both FormFire and the Quote feature. Below is a list of our carrier census exports only available to FormFire enabled brokers.
FormFire Census:
Benefits Monthly Snapshot
Community
Dental
FormFire Community Quote
Medical
MU Screening Report Census
Non-Medical
Vision
Quoting:
Aetna Family Health
Aenta GRX 51-100 EEs Member-Level GA Quoting Census
Aetna Medical Condition Census
All Savers 20+ Quoting Census
All Savers 5-19 Quoting Census
Alliant Census
AllSavers Census
Anthem for SOCA BP eQuote Census
Anthem for SOCA BP Prescreen Census
Anthem Producer Toolbox (2015)
Assurant Medical Condition Census
BCBS IL Quoting Census
BCBS TX Quoting Census
BCBCGA Carrier Census
Benefit Mall 2 to 50 Census
Bluegrass Family Health
Common Ground Census
Coventry Census
Health America Census
HealthSpan Census 2014
HHIC Census (2014)
Highmark Small Group Quoting Census
Humana Carrier Census
InHealth Mutual Quoting and Enrollment
Kaiser Quoting Census
Key Health Partners Census
Medical Mutual Census
MMO Quoting Census
Nippon Quoting Census
Paramount JET Quote Census
Paramount Quoting Census
PHP Indiana Quoting Census
Principal
Significa Export
Summa Census
TGA Census
UHC 2-50 Quoting
UHC GRX Census
UHC Member Level Census
UHC SAM Census (2014)
UPMC Census (2014)
WPS 2-50 Quoting Census
Enrollment:
Aetna 2-100 E-List Enrollment
Aetna 51+ EEs Waiver PA
AlwaysCare Enrollment Census
Anthem 100 Plus Enrollment
Anthem 51-99 Enrollment Census
Anthem Dental Accumulator
Anthem For SOCA BP Life Enrollment
Anthem For SOCA BP Medical, Vision, and dental Enrollment
BCBS GA Enrollment Census
BCBSNC Enrollment Census
Capital Bluee Cross Census
Capital BlueCross Waiver
Cigna Enrollment Census
Companion Life Enrollment Census
Empire Clue Cross Census
Group Health Preferred Enrollment
Health Resources Inc Dental Enrollment Census
HHIC Manual Enrollment Census
Highmark Blue Shield Enrollment Census
Highmark Small Group Enrollment
Humana 2-50 Census
Humana List Enrollment
InHealth Mutual Quoting and Enrollment
Metlife Over 100 EEs Basic Life / Supp Life / LTD / STD
MetLife Under 100 EEs Life EOL LTD STD
MMO Sold Group Installation
National General Benefits Solutions Census
NEO Enrollment Census
Oxford Enrollment Census
Permera Enrollment Census
Principal
SecurityLife Enrollment
Sun Life Enrollment Census
UHC Prime Enrollment
UHC SAM Enrollment Spreadsheet
UHC Solutions v4
UHC X-Tool
VSP Vision Enrollment Census
Xponent Employer Solutions Census
Where to access carrier census exports
On your Client Dashboard, select the orange context menu box by the group in question and select Generate Census.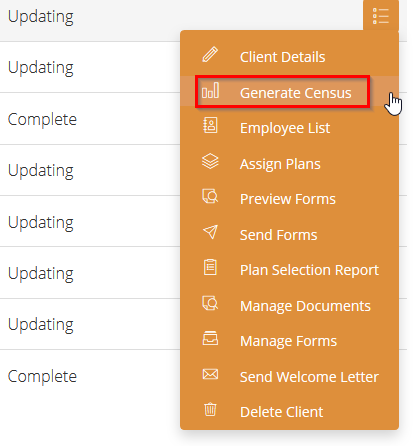 Here you will be able to select either a specific FormFire Census, Quote Census or Enrollment Census. You can even create a Custom Census too.

Are we missing a census? Please send a copy of the census to support@formfire.com. After reviewing the document, we may be able load it into FormFire.